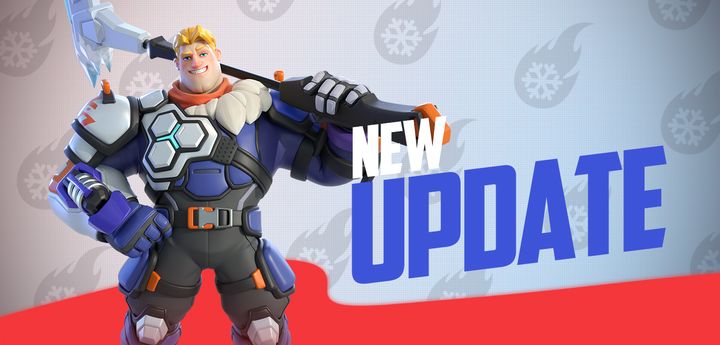 Server maintenance is happening on
January 30
at 2:00am (UTC).Both Android and iOS versions will be updated to
1.32.1354082
. You will need to update the app on the App Store (iOS), Google Play (Android) or TapTap (Android).
During the first 30 minutes of maintenance, all online players will be forced to log out. Please log out ahead of maintenance in order to prevent any possible interruptions to your matches. Thank you for your understanding and support!
Here are the details of this update:
>>>Ranked Mode Adjustments
"Making Ranked an even grander and more competitive experience!"
1. Placement Rules: Players who competed in the previous Ranked Season won't have to do placement matches anymore, and rank will be set based on the rank they achieved in the previous season;
2. Maximum Tier: The highest possible rank has been increased from [Platinum] to [Superstar];
3. Professional Ranked Matches:Players ranked Diamond and above will qualify for the new Professional Ranked mode.
3.1. Player names will be blocked until the match settlement
3.2 Heroes will automatically be leveled up to Lv. 9
3.3 Challenger Points, Challenger Shields and Rank Protection are all disabled
>>> Quality of Life Improvements
"Thanks to the great efforts of T-COM, more thoughtful systems and improvements are coming..."
1. Training Room Improvements: You can now switch Heroes directly inside the Training room without having to load back in and out.
2. Cancel Ult. Button: Charging-type ultimate abilities will now get their own cancel button.
3. Hall of Fame Rewards: Rewards can now be claimed in any sequence you like;
4. Button Layout: Settings: CONTROLS - LAYOUT supports voice button customization
5. Turn Off Requests: You can manually turn off incoming requests via ACCOUNT - Privacy Settings. When switched off, you will not able to receive Party Invites from other players.
6. Spectating Improvements: The number of viewers will be shown when you are being spectated;
7. Lucky Draws: Kazama's "Summer Blast", Labula's "Chariot Guard" and Sindri's "Mecha Rooster", will enter a countdown and be removed from "Lucky Stars" 7 days after this update.
8. Various UI and sound effect improvements.
"Based on real player feedback as well as closely monitoring live gameplay data, we have made the following balance changes:"
Collision Damage 1500→1400
"To celebrate Valentine's Day, we're launching a series of new events. Love is in the air!"
Schedule: 2023/02/03 06:00:00-2023/02/06 06:00:00 (UTC)
Overview: Select a hero (of any quality) you like for increased odds of obtaining them via Rumble Boxes.
Event 2: Valentine's Collectibles
Schedule: 2023/02/08 00:00:00-2023/02/16 00:00:00 (UTC)
Overview: Obtain the new Valentine's item 'Love Roses' by playing in Valentine's Events in order to redeem Valentine's Day Exclusive Collection Rewards.
Schedule: 2023/02/08 00:00:00-2023/02/15 00:00:00 (UTC)
Overview: Find Molly & Olly on the map and interact with them 2 times a day to receive Love Rose x 35, Star-Coins x 210.
Schedule: 2023/02/12 00:00:00-2023/02/15 00:00:00 (UTC)
Overview: Login for a required number of days to claim the "Love Rose" rewards.
Schedule: 2023/02/11 00:00:00-2023/02/15 00:00:00 (UTC)
Overview: Complete a series of Bonding Tasks with Heroes to win the "Love Rose" rewards.
Event 6: 3x Trophy Challenge
Schedule: 2023/02/14 00:00:00-2023/02/15 00:00:00 (UTC)
Overview: Collect up to 5 3X Trophy Cards daily. For every Trophy match won, a card will be used to earn triple the number of trophies.
Event 7: T-Crystal Shield Event
Schedule: 2023/2/16 00:00:00—2023/2/23 00:00:00 (UTC)
Overview: Receive T-Crystal Shields daily. These shields will protect you from losing your Ranked Stars in case you lose a match.
Watch
Arena News
for more information!
Download Free on Google Play:
https://bit.ly/3S5VhvI
Download Free on App Store:
Follow for more dev insights, game updates, and a whole lot more: