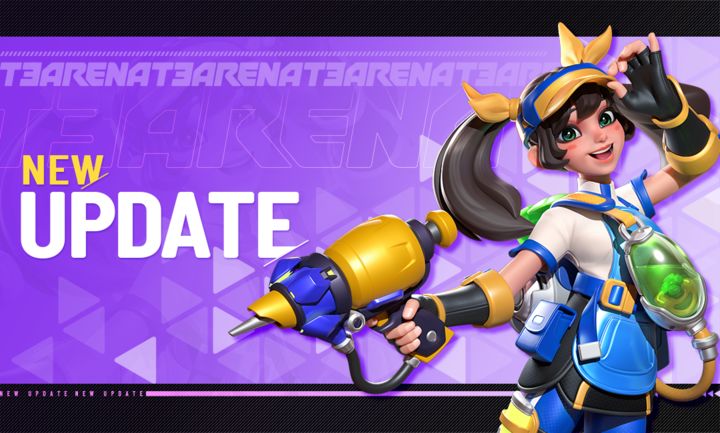 Server maintenance is happening on
June 5
at 2:00am (UTC).
Both Android and iOS versions will be updated to
1.35.1595544
. You will need to update the app on the App Store (iOS), Google Play (Android) or TapTap (Android).
During the first 30 minutes of maintenance, all online players will be forced to log out. To avoid any possible interruptions to your matches, please log out before maintenance begins. We appreciate your understanding and support.
Here are the details of this update:
>>> Super Season 1 - Neon Party
"This next season will be a fresh new start for T3"
Start Time: 00:00 UTC on June 9, 2023
End Time: 00:00 UTC on August 17, 2023
Ranked Super Season 1 will also start on June 9.
"A student of Herbology, Neon is a highly mobile Support Hero that focuses on healing."
Super Season 1 welcomes Neon! You can unlock her at level 30 of the Premium Battle Pass after June 9.  More season exclusive rewards for Neon, including the "Twinkling Neon" skin can be unlocked via the Premium Battle Pass!
Neon also comes with her own set of Hero Tasks. Complete them to receive an extra 1000 Glory Points.
"To celebrate Neon joining the Arena, Johnny Jet's beats will play at full blast!"
Event Time: 2023/06/09 00:00:00 - 2023/06/30 00:00:00 (UTC)
Overview: During Neon Party, a series of challenges, mini-games and more will be unlocked each day. Join the party to collect the season exclusive items "Party Stars" and "Popcorn" which can be exchanged for season-limited gifts. The following events, and more, await you:
Overview: Starting June 10th, log in to the game on weekends to receive [Popcorn], [Skin Shards], [Party Stars], [Ability Cores], and other rewards.
Overview: 2023/06/16 00:00:00 - 2023/06/23 00:00:00 (UTC)
Event Info: Log in daily to get a chance to flip a Star Fate card. The "Star Tickets" obtained can be used for lucky draws and to purchase cosmetics in the store.
Stage 1 event time: 2023/06/11 00:00:00 - 2023/06/12 00:00:00 (UTC)
Stage 2 event time: 2023/06/18 00:00:00 - 2023/06/20 00:00:00 (UTC)
Overview: Collect 3X Trophy Card for Wins x5 every day during the event
GLORIA: 2023/06/15 00:00:00 - 2023/06/22 00:00:00 (UTC)
JUDEX: 2023/06/22 00:00:00 - 2023/06/29 00:00:00 (UTC)
Overview: Limited-time hero bonus. Complete the challenge to get [T-Coins], [Point Doublers], [Experience Items], [Arcade Tickets], and other limited rewards.
"New Ranked fully launches on the same day as Super Season 1"
Season time: 2023-06-09 00:00:00 - 2023-08-10 00:00:00 (UTC)
Overview: By being active in Ranked, you'll progress through Stadium Track, and unlock amazing rewards directly for free. You progress through Stadium Track just by playing Ranked Mode, whether you win or lose.The progress will be reset at the beginning of each season, and you need to be active again to receive new rewards in the new season.
Overview: After successfully ranking up, you can receive the corresponding rank promotion rewards in the rewards interface. Rank promotion rewards are divided into two types: season promotion rewards and career promotion rewards. Career promotion rewards can only be received once, and season promotion rewards will be reset at the beginning of each season.
Overview: At the end of each Ranked season, corresponding season rewards will be settled based on the ranks achieved by players, with the highest reward going up to 10,000 ranked coins.
>>> Hero Balancing Adjustments
"We hope that each hero can have a unique gameplay style and be effective in different situations."
1.Balance adjustments for the following heroes:
Single bolt damage reduced: 500 >>> 360
Sindri: Bullet damage reduced: 300+150 >>> 200+150
Chemist: Ultimate ability can be used on self, with an increased time window for locking on to targets who've just broken the line of sight.
2.Auto-Fire Range Adjustments:
The Auto-Firing Distance for the following Heroes has been increased:
Mark, Iris, Gloria (ZMR Assault Rifle), Hunter, Skadi, Judex, Vincent, Gatlyn (ÜberCharge): 50 -> 70
Labula, Yaa (Breezeblast), Fort: 30 -> 50
>>> Quality of Life Improvements
"With T-COMM's unremitting efforts, more user-friendly systems and optimizations are being upgraded..."
1.Ranked Icons: Icons from Bronze to Diamond have been redesigned. They now look vibrant and high-tech, just like how we've always imagined the world of T3.
2.New items in the store, more skins for players to discover;
3.Ranked match team-up optimization: 4-player teams are now supported;
4.Matching optimization: All teams will be preferentially matched to other teams. When there is no other team, there will be a passer-by team with stronger personal strength;
5.Various UI and sound effect optimizations.
Watch
Arena News
for more information!
Download Free on App Store:
Follow for more dev insights, game updates, and a whole lot more: