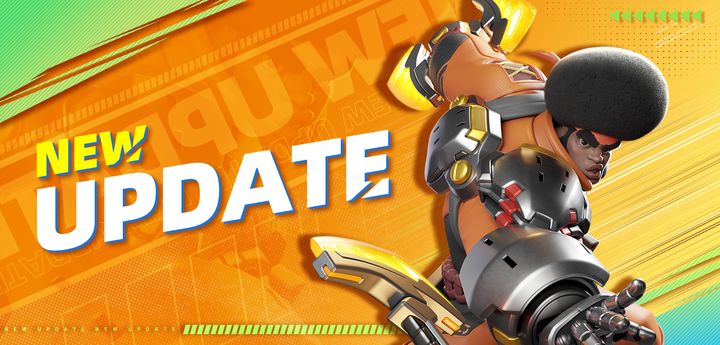 Server maintenance is happening on
September 20
at 2:00am (UTC).Both Android and iOS versions will be updated to 1.38.1795126. You will need to update the app on the App Store (iOS), Google Play (Android) or TapTap (Android).
During the first 30 minutes of maintenance, all online players will be forced to log out. To avoid any possible interruptions to your matches, please log out before the maintenance period. We appreciate your understanding and support.
Here are the details of this update:
"Unlock each Hero's exclusive second ultimate with our new Hero Road free rewards track!"
1. Access the Hero Road unique to each Hero via the Hero Details menu;
2. Once available, unlock it by earning progress through battles. This grants access to the Hero's second ultimate ability, limited collectibles, and other items including a new collectible: the Hero's exclusive autograph displayed on their entrance screen;
3. With this update, players can unlock Hero Road for the following heroes: Skadi, Gloria, Jabali, Iris, and Shell.
4. Players who previously unlocked these Heroes' second ultimate abilities can use them immediately. Upon reaching the progress level where they would typically unlock the second ultimate ability on the Hero Road, they will instead receive a reward of 500 T-Coins.
[Reporting & Reputation Score System]
"The T-Com has always been committed to maintaining game fairness. This update we're introducing a comprehensive in-game reporting feature and reputation score system to maintain game fairness."
1. The reputation score system is now live. Check your score under [Player Info] - [The Hub]. Low scores result in various game restrictions as follows:
    a) Verified reports against an account will reduce its reputation score.
    b) Scores below 90 restrict you from playing in Ranked matches.
    c) Scores below 80 limit you to AI matches in Casual mode without trophy rewards or party creation/joining capabilities.
    d) You may restore your score by completing matches without any further rule infringements.
2. An optimized reporting system allows you to report cheating, negative attitudes or griefing behavior and monitor report progress under [The Hub] - [Report]. The reporting system and its judgment mechanism will continue to undergo ongoing improvements. We extend our gratitude to all players for their dedicated efforts in upholding a fair and just gaming environment!
1. The off-season period for Ranked has been reduced from 2 weeks to 8 hours with an extended no-star-loss event end time.
2. Get ready for a full upgrade of Ranked tasks! More daily/weekly tasks with richer rewards are coming including Ranked Medals, Point Doubler, T-Coins, Ranked Shields etc.
[Limited Time Top Up Event]
1
. Accumulate top-up amounts during the event to earn valuable rewards like Skin Vouchers, Arcade Tickets, Choice Bundles etc.
Increased Hua Ling's survivability and weapon damage.
- Main Weapon [Compound Bow] - Fully Charged Damage: 2700 ⇒ 3000
Improved Chemist's movement speed and reduced first active ability [Rapid-shot] cooldown.
- Movement Speed: 5.5m/s ⇒ 6m/s
- First Active Ability [Rapid-shot] Cooldown: 10s ⇒ 9s
Boosted damage and shield capacity of Zero-Kelvin's first active ability [Snowball].
- First Active Ability [Snowball] Ramming Damage: 1680 ⇒ 1920
- First Active Ability [Snowball] AoE Damage: 1680 ⇒ 1920
- Hero Shield Capacity: 3600 ⇒ 4200
Enhanced attack damage of Ono's main weapon [Storm Blade] and health of his first active ability's [Portable Barrier].
- Main Weapon [Storm Blade] Powerful Attack Damage: 2880 ⇒3120
- First Active Ability [Portable Barrier] Barrier Health:4800⇒5400
[Gigacave Mine Structure Adjustments]
In response to player feedback, we've modified the Gigacave Mine map in Escort Mode to better balance attack and defense strategies.
Significant changes include:
1. First Section: Streamlined the initial spawn room structure for attackers.
2. First Section: Incorporated a shooting platform adjacent to the starting point.
3. First Section: Modified the staircase direction in the building before the checkpoint.
4. Second Section: Eliminated the staircase in attackers' second spawn room.
5. Second Section: Reduced visibility from shooting windows flanking both sides of the destination.
1. Casual 3v3 (excluding T-Coins Mode) now offers mode selection options similar to 5v5;
2. Various UI and Sound Effects optimizations.
Watch
Arena News
for more information!
Download Free on Google Play:
https://bit.ly/3S5VhvI
Download Free on App Store:
Follow for more dev insights, game updates, and a whole lot more: