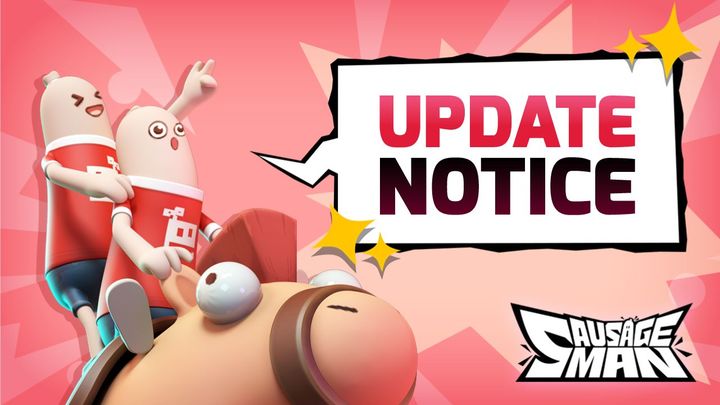 The Server will be out of service for the following times, you will be temporarily unable to play during the maintenance period.
21 April 2022 8:00 - 21 April 2022 12:00 (GMT+8)
Maintenance time may incur delays. It will not be possible to enter the game during the maintenance period. Islanders are advised to plan their game time so as not to affect their gaming experience.
[Maintenance Compensation]
1. Rainbow Supply Box × 4
Accounts registered before 8:00 (GMT+8) on April 21, 2022 
1. New Season SS2: The Wolf is Coming! This is a fairytale of Sausage Man. Gather your friends and sign up for some action. For the first time ever, this Season Pass offers a skin for your Excalibur.
2. New Seasonal Functional Equipment: Wolf King Legend Card - Become the Wolf King and strike with sharp claws. Everyone falls prey to you.
3. New Seasonal Arcade Mode: Werewolf Party - The werewolves are awakened, wreaking havoc in the dark night. Do you have what it takes to take down these monsters and save the world?
4. Added the female idle pose and outfit change pose, adding more charm to your character. You can now preview gender poses in Warehouse.
5. The Murloc-themed event is coming soon. Stay tuned.
6. Added new languages: Japanese, Traditional Chinese.
1. Optimized and enhanced the anti-cheating feature.
2. Overhauled and upgraded the melee weapon controls:
  (1) Adjusted and re-balanced the melee attack damage.
  (2) Added a charging attack for common melee weapons (hold to use). This doesn't work in modes such as Werewolf Party, Run Boy Run! Sausage! )
  (3) Reworked the attack animation for Fist, Little Fork, Baseball Bat, Plunger, and Saucepan.
  (4) Optimized the special sound effect for melee hits.
  (5) Optimized the audio and display effects for melee weapons.
  (6) Optimized the preview effect of the melee weapons in Warehouse.
3. Weapon Stats Balance Optimization:
  (1) Nerfed the Pulsing Hand Cannon. It now has lower RoF and lower bullet velocity.
  (2) Optimized the Aim Assist feature.
4. Optimized how the Quick Party tallies its match results. If you quit the game early, you will receive a suspension from the matchmaking system and no longer able to earn rewards for staying online.
5. Optimized the blue circle mechanic, improving the combat experience for each circle.
6. Optimized the Connection Duo Display action so that you can set a unique action for each Connection partner.
7. Optimized the filter feature for Supply Boxes and added the new option "Unowned".
8. Adjusted the in-game follower cap limit. You can now follow up to 5000 players.
1. Fixed a bug where some rocks, trees, and objects in the environment were floating above the ground.
2. Fixed a bug where if you needed to reconnect to the game while you're parachuting, there might be display errors or misplacement issues.
3. Fixed a bug where when you detached from your teammates while parachuting, your trailing color might be inconsistent with that of your teammates.
4. Fixed a bug that your camera might incorrectly turn its direction when you used the Poseidon Legend Card's second skill for the first time.
5. Fixed a bug that you wouldn't be able to pick up Respawn Coins while you were on the Galactic Battleship or Pirate Ship.
6. Fixed a bug where you could get stuck while reconnecting to the Best Sausage menu.
7. Fixed a bug that a Mini Sausage would be moving at an incorrect speed if it was taken down by the Orb Legend Card's second skill.
8. Fixed a bug where if there was a Rubber Ball in front of a Teleport Cannon, it would get teleported to outside the map when the Cannon fired.
9. Fixed a bug where players would still get bombarded if they hid beneath a camp cover inside a Bombing Area.
10. Fixed a bug where game characters could be missing their body models in Team Battle.
11. Fixed a bug that if the number of Fire buttons was set to 1, the Silly Dragon wouldn't have a Fire button.
12. Fixed a bug where footstep sound effects were missing while Colossal Mushroom was active.
13. Fixed a bug that the Season Pass purchase menu was incorrectly displayed.
14. Fixed a bug where a player's My Space could display incorrectly when that player accessed My Space from a customized room's history result.
15. Fixed a bug that a game character could lose its visual appearance when quickly accessing and leaving the Social menu.
16. Fixed a bug where some Arcade Mode games could incorrectly take away a player's Ranking Protections gained from the returning event.
If you have any questions during the update period, please feel free to leave a comment below this post, we will solve them for you in time, thank you for your understanding and support!
If you encounter problems such as installation failure during update, we recommend that you uninstall Sausage Man and download it from the TapTap again.
Sausage Man Operations Team