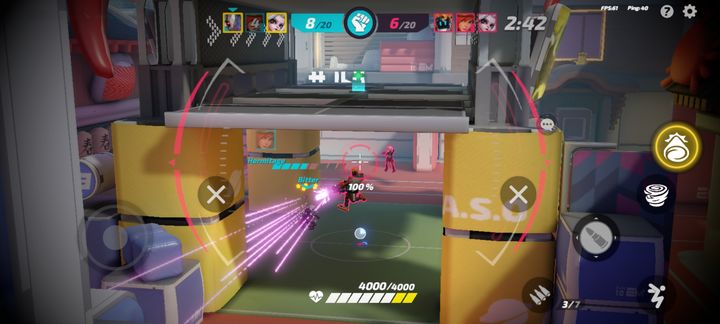 In the last five years or so, the multiplayer shooter genre has seen two huge trends: battle royale games and hero shooters. The latter includes titles like
Overwatch
and
Valorant
—games with an almost MOBA-esque take on shooter mechanics, where players select from a cast of characters who each have their own weapons, special abilities, stats, and playstyles. But notice that those two biggest examples of the hero shooter,
Overwatch
and
Valorant
, are both currently absent on mobile devices. A mobile version of
Valorant
is currently in the works, but it's not expected to enter beta until late 2022 or early 2023. Thus the hero shooter genre is pretty sparse pickings for those looking to jump into a few quick games on the go.
T3 Arena
is the latest attempt to fill in that space, and it's one that succeeds more than I would have expected from videos and screenshots alone. The first thing I noticed about
T3 Arena
is just how colorful it is. It takes the vibrant visuals of
Overwatch
and cranks the knob even more towards cartoony. Many of the levels have a playground quality, and in a few cases, I was even reminded of Nintendo's
Splatoon
, one of the most family-friendly shooters ever created.
T3 Arena
, for its part, is also appropriate for all ages; the shooting can get pretty intense, sure, but there's no bloodshed, no in-game chat, and no serious avenues for players to be abused or mistreated.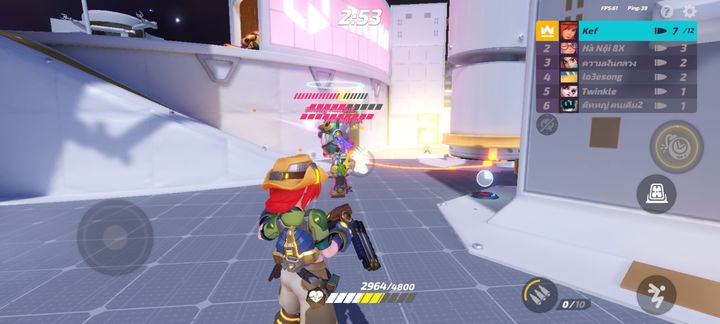 T3 Arena
is also friendly to players of all skill levels thanks to its auto-shoot functionality. If this is enabled, you don't need to worry about shooting at all. As long as you're aiming at an enemy, the game will automatically begin shooting. This means you can focus all of your attention on movement, aiming, and pulling off special abilities at the right times. Auto-shooting isn't the most accurate, and experienced mobile shooter players will probably want to turn it off. Likewise, some of the more advanced heroes, such as the sniper Ossas, don't allow for auto-fire. But as an option, it's a great way to ease new and younger players into the action and help them achieve some easy victories while they get used to playing.
The variety of heroes is also sure to draw in newbies and practiced shooter players alike. At launch
T3 Arena
has eighteen playable characters, though only the pistol-wielding, guitar-playing Skadi is unlocked from the start. Players gain access to more characters by winning matches to earn trophies, as well as getting loot boxes through the Season 1 battle pass. Loot boxes can contain full heroes, but more often they'll just provide you with some coins and shards for leveling up heroes you've already unlocked. Still, the game isn't too stingy with hero unlocks. Within about five hours of playing, I had unlocked around half of the roster.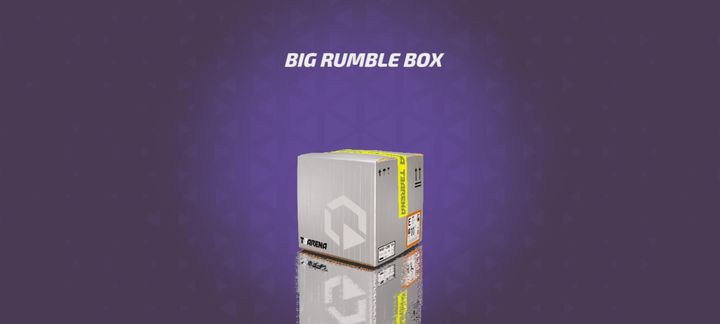 Be warned, however, that if you plan to play in long sessions, your unlocks will slow down a lot. The majority of rewards come via the battle pass, which progresses by earning battle points. And the majority of battle points are earned by completing tasks. Players are given a total of three daily tasks every day and three seasonal tasks every two days.
I completed my initial batch of tasks within an hour or two. Beyond tasks, battle points are only earned when you rank up a character's "glory" (via earning trophies with them), level up your account, or wait for a tiny boost of earnable battle points tied to just playing games, which is topped off every two or three hours. It's a bit of a grind, in other words, and it can make it feel like you're wasting your time playing games after you've already finished your tasks for the day.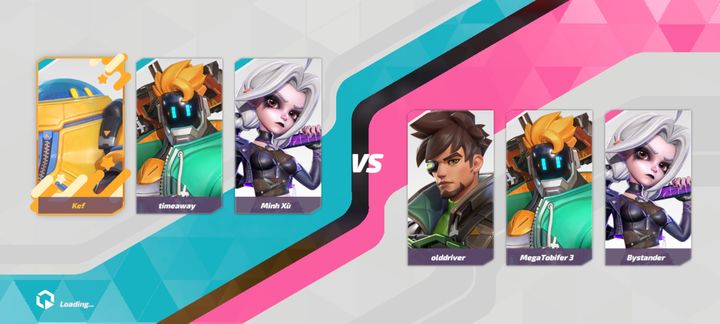 What kept me pushing through even when I felt like I wasn't making much progress was the sheer variety available in heroes and their playstyles. For example, there's Victor, a robot who's dressed like a high school jock and serves as the game's tank, boasting a huge health pool and the ability to get up close and personal in team fights. Or there's Iris, the healer who can hold her own with a rapid-fire SMG-style gun, who has quickly risen to the top of many hero tier lists for the game.
I was especially surprised how much I ended up loving Cristina, a stylish lady with dreadlocks and a handy grenade launcher who specializes in sticking high explosives onto floors, walls, and the bodies of her enemies. Likewise, I spent a lot of time with Jabali, a, uh, "mysterious being" who looks sort of like a pair of disembodied yellow eyes floating around in a giant, puffy hazmat suit. Jabali has a close-range weapon that shoots out a beam of electricity, but he can also pop out a shield to protect himself and teammates, or turn himself into a spinning whirlwind of death that can quickly drain the health bars of even the hardiest opponents. Jabali is not highly considered by the player base currently, but I still had a ton of fun with him.
T3 Arena
's biggest success is that it genuinely feels like even the most obscure and difficult-to-pin-down of its cast can perform great in the right hands and with the right attitude.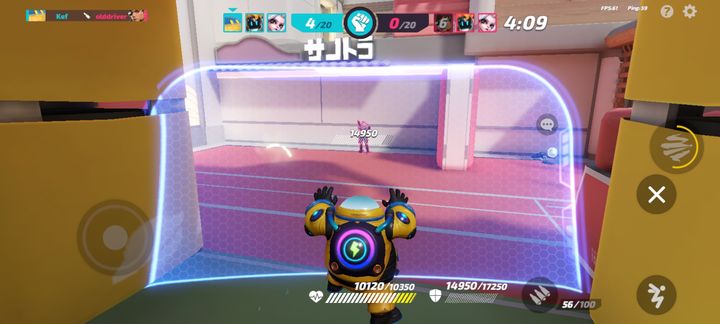 Then again,
T3 Arena
's biggest point of concern may be how it handles individual character progression. Remember those shards I mentioned earlier that you'll earn from loot boxes? Those can be spent, along with coins, to level up heroes. Each hero earns their own levels from their own shards. And those levels make a big impact, increasing hit points, the size of shields, the attack power of weapons, and even the cooldown of ultimate abilities. Later in the game, you're even able to unbox new ultimates and passive abilities for each individual hero.
I'm torn about this system. On the one hand, listen, I'm an RPG fanatic. More than anyone, I understand the pure visceral joy of leveling up, of slowly increasing your character's stats and seeing that performance boost on the battlefield. The problem is that in player-versus-player games, it quickly leads to balance concerns, even in scenarios where it isn't actually causing problems. Did that Gloria just take me down so fast because she got the drop on me and I wasn't prepared? Or was it just that the player controlling Gloria blew a bunch of real money on loot boxes and got all the shards necessary to pump her up to inhuman levels of power? I don't know the answer, because there is no way of knowing, but having that be a question at all feels bad in a game that's ostensibly meant to be skill-based.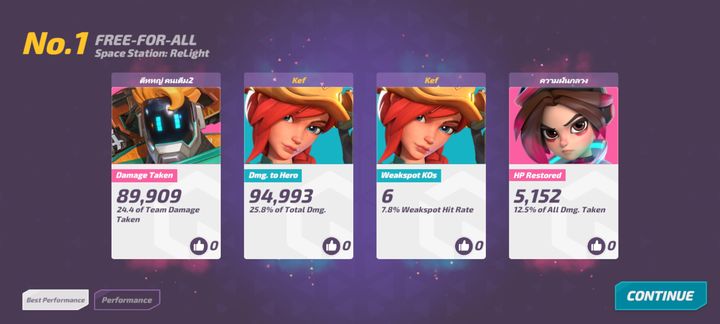 At least if you get frustrated in one mode,
T3 Arena
offers a few options for changing things up. In addition to the core Team Deathmatch mode that is open at the start, wherein two teams face off to see who can reach twenty kills first, the game offers a number of other modes: Free-For-All (i.e. regular deathmatch), Crystal Assault, Control, and Payload Race. None of these game types will be unfamiliar or surprising to anyone who's played a other hero shooters, but they're all well-presented here, and each is well-adapted to
T3 Arena
's speedy, three-versus-three pacing. Matches will never last more than ten or fifteen minutes.
I was a little less enthused that each mode is locked to a single map, which rotates every three to four hours. This felt like a way of hiding a lack of maps overall for the game at launch. However, maybe the low variety doesn't matter all that much, as most of the maps are small, simplistic, symmetrical affairs—which works perfectly for a mobile game where matches are meant to be played out quickly.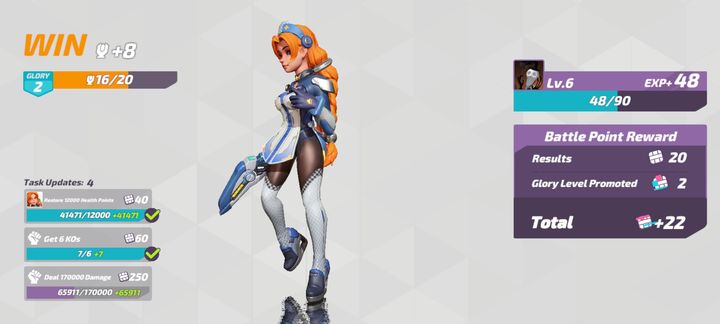 I'm less forgiving of
T3 Arena
's current major technical problem: bots. For the most part, the game is a marvel. It looks gorgeous and runs as smooth as anything I've ever played on a phone, to the point that I rarely dipped below 60 frames per second. On more than one occasion, though, I got placed into games with very obvious bots. And I'm not talking about the kind of bots created by the developers to fill out slow matchmaking queues; I mean the sort that are seemingly being run by random players trying to grind out levels without actually playing at all.
The worst one was a bot who got placed on my team and proceeded to spend the entire game running into a wall just inside our spawn area, backing up, and then running into it again. Great job, team!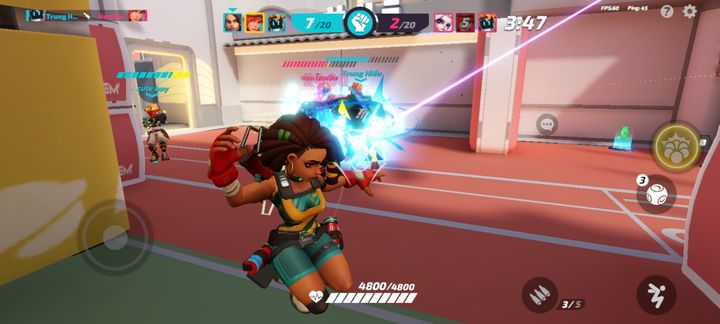 It's to
T3 Arena
's great credit that despite the launch day issues I've bumped into, I'm eager to keep playing. I'll likely be tweaking my habits to mostly log on once or twice a day and clean up tasks, rather than playing in long, hand-cramping sessions. But I absolutely do intend to play more. If the bot situation doesn't get more out of control, and if the hero leveling is balanced to make sure players aren't punished just for not playing as much (or not shelling out cash),
T3 Arena
has every opportunity to lead the way for hero shooters on mobile. I'll be sticking with it through the first season, at least, in hopes that they can accomplish that.
•
Overwatch
,
Valorant
, and other hero shooters. As stated in the review,
T3 Arena
is ahead of the pack in terms of making the hero shooter genre available in polished, fun form on mobile devices. If you need your dose of hero shooting action on the go, this will keep you happy.
•
Splatoon
.
T3 Arena
isn't quite as family-friendly as Nintendo's colorful squid-kid paint-em-up, but it definitely embraces a more cartoonish, silly style than most other comparable player-versus-player shooters.
CHECK OUT SOME OTHER RECENT REVIEWS FROM TAPTAP: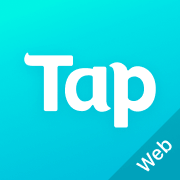 Touchgrind Scooter Review: It's Trickaaaaay! | TapTap
https://m.taptap.io/post/1473243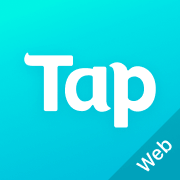 Cat Museum Review: Not Cat Fancy, Cat Freaky | TapTap
https://m.taptap.io/post/1471125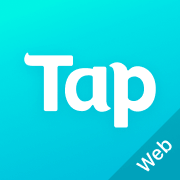 Endless Nightmare 3: Shrine Review: A Classic Egyptian Thriller | TapTap
https://m.taptap.io/post/1469558