We're Truck World Studio, and today we'd like to briefly introduce our upcoming game
Truck World: Australia
.
Truck World: Australia is, just as the title suggests, a truck driving simulator set in a large open-world of Australia. You'll be choosing from a wide range of vehicles and performing complex maneuvers, transporting various stuff across the country including oversized loads and high-risk cargo at different times of the day and in different weather conditions, and much, much more.
We've got a few unique advanced mechanics up our sleeve. For instance, the cabin of your truck will be almost fully interactive, letting you fiddle with just about anything you can find in it, from crucial vehicle controls to fancy mementos. Also, you'll be able to get off your vehicle and inspect it, attach trailers, secure the load, and much more - all in person! Finally, there'll be a third-person view option available during certain actions to make your life a little bit easier: simulators or not, videogames are about having fun after all.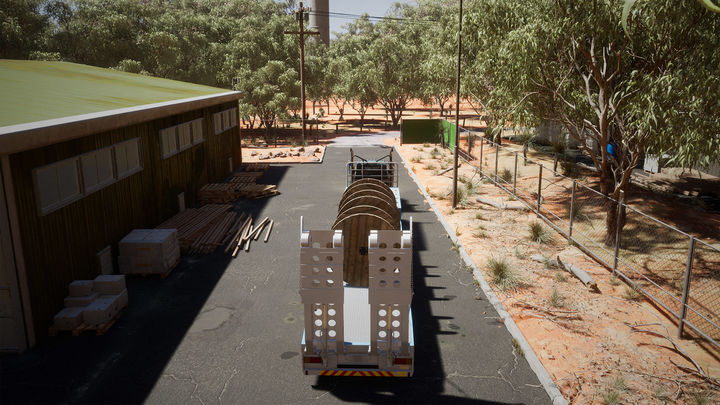 Why Australia? Well, because it's scenic and truly versatile. Despite being the world's smallest continent, Australia is actually the sixth-largest country in the world that encompasses a wide variety of biogeographic regions: from the Australian Alps with their snow-capped mountains to vast deserts and forests, which means you'll never get sick of the view from your truck's window.
We believe that the basis of a good simulator is a realistic representation of the world the game takes place in, therefore a great deal of effort has been put into research: we've studied hundreds of maps and photos in order to recreate Australian roads and landscapes as accurately as possible.
While Truck World: Australia is still in development, we'll be releasing a free-to-play Truck World: Driving School in early 2023, which is basically a standalone demo with various challenges letting you learn the basics of truck driving. You're very welcome to wishlist it and share your feedback with us afterwards - it'll help us make the full game even better, and any help is always appreciated.
Thanks for your attention, and have a great day!