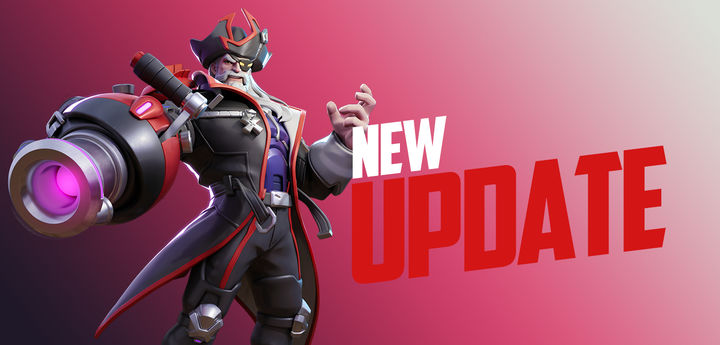 Server maintenance is happening on
March 1st
at 2:00am (UTC).Both Android and iOS versions will be updated to
1.33.1405741
. You will need to update the app on the App Store (iOS), Google Play (Android) or TapTap (Android).
During the first 30 minutes of maintenance, all online players will be forced to log out. Please log out ahead of maintenance in order to prevent any possible interruptions to your matches. Thank you for your understanding and support!
Here are the details of this update:
Start Time: 00:00 UTC on March 2, 2023
End Time: 00:00 UTC on June 1, 2023
The new season of Ranked will also start on March 2.
"The most ferocious pirate throughout the universe will soon join Sin City"
1. Fade is officially making his arrival to T3 Arena, as the new Season Hero.
Fade can be obtained via the Season 5 Battle Pass, after March 2.Once the Pirate King, Fade is a Vanguard Hero who uses the Quantum Cannon, a high-tech weapon perfect for Control type skills.
"FAST, CHAOTIC, and PURE FUN in teams of 5!"
Limited Beta Time: 2023/03/02 00:00:00—2023/03/23 00:00:00 (UTC)
1. Availability: 5v5 unlocks automatically at 600 Trophies. 11 heroes are available during this beta, and they all come with new skills and a new set of balancing.
2. Core New Features: 5 member teams, switching Heroes within a match, controlling 3 abilities instead of 2.Note: 5v5 will be available in Private Rooms even after the Beta is over.
>>> Matchmaking Adjustments
"The optimizations we have made to the matchmaking system will surely bring you a better gaming experience."
1. Matchmaking 3.0: A new matchmaking system configured with the next-gen algorithm is launched. Team skill will be the core standard in matchmaking. *
2. In all game modes, you will chose Heroes after choosing a game mode and map.
3. "Clash" and "Payload Escort" are now exclusive to Ranked Mode, making matchmaking more focused. (Rewards unlocked at 600/750 Trophies in the Hall of Fame will also be replaced)
*When Matchmaking 3.0 first launches with the new season, it may take a few hours for the server to calibrate your new TrueSkill score. Thank you for your understanding.
>>> Hero Balance Adjustments
"Based on players' suggestions as well as the game heroes' KDs and win rates, we have made the following hero balance adjustments."
The Headshot Damage Multiplier of her main weapon "Dual Auto-Pistols" and Ultimate Ability "Holo-Burst" has been now reduced from 2X→1.6X
Main weapon "Portable Blizzard Launcher" Ammo Capacity 120→50
When entering and leaving "Über Charge", Gatlyn's Movement Speed will be increased by 50% for 1.5s
>>> Quality of Life Improvements
"Thanks to the great effort of T-COM, more thoughtful systems and improvements are coming..."
1. Newbie Tutorial has been optimized. The 'Store', 'Events' and 'Inbox' menus will be unlocked after players unlock 3 heroes;
2. Arcade Store adjustments: Added Diggy's Mythic Skin "Lady of the Night"; removed passive skills of Iris, Labula and Judex;
3. "Arcade Tickets" Limited-Time Discount available;
Limited Event Time: 2023/03/02 00:00:00—2023/03/09 00:00:00 (UTC)
4. Various UI and sound design improvements.
Watch
Arena News
for more information!
Download Free on Google Play:
https://bit.ly/3S5VhvI
Download Free on App Store:
Follow for more dev insights, game updates, and a whole lot more: