Exciting times lie ahead for Free Fire MAX players as new leaks reveal upcoming events: Play Night Hunter and Igloo Wall. These events promise rewards such as vouchers, gun crates, and a unique Gloo Wall skin.
**Leaked Upcoming Free Fire MAX Events**
Renowned data miner Sawgaming shared an Instagram story unveiling the Play Night Hunter event. Scheduled between April 28 and May 4, this event offers a Weapon Loot Crate, Gold Royale Voucher, and Weapon Royale Voucher. Players will likely need to compete in the Night Hunter mode to[get rewards encouraging more community participation.
Data miners also disclosed the Igloo Wall event, anticipated to be active from April 28 to May 4. This event is expected to introduce a distinctive Gloo Wall skin called "Bouncy Igloo" with special effects that set it apart from other Gloo Wall skinsin Free Fire MAX. Players will need to spend diamonds to obtain Bouncy Igloo; however, specific requirements and additional rewards remain unknown.
**Ongoing Event: Elimination Challenge**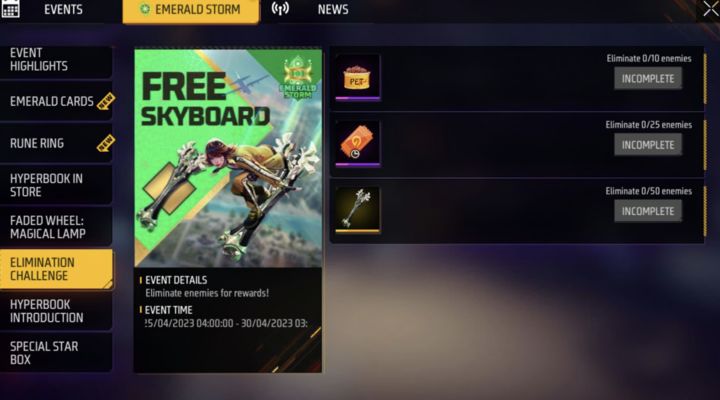 Besides the two leaked events, the "Elimination Challenge" is currently active in Free Fire MAX. Players can earn a free skyboard skin and other rewards by eliminating opponents:
• Eliminate 10 enemies: Pet Food
• Eliminate 25 enemies: Incubator Voucher
• Eliminate 50 enemies: Sky Claw Skyboard
This event will run until April 29, providing players a few more days to claim their rewards.