I finished
my review
of
Diablo Immortal
weeks ago, but I haven't stopped playing yet. Should I just uninstall it off my phone? Probably. Am I still drawn in by the extremely tight core gameplay loop? Absolutely.
Do I have a problem? Sure. But do I want to continue sending charges to my credit card for this infinite money sink?
Absolutely not
.
Lucky for me, there's a solution! Some enterprising soul has come up with $25 Rift Simulator, which you can play right now in your browser
by clicking here
.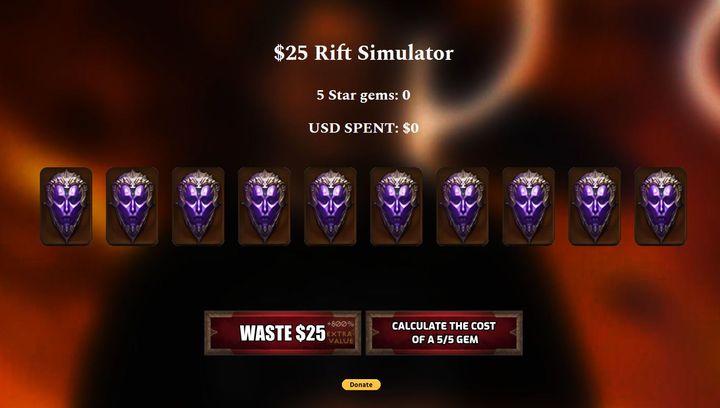 $25 Rift Simulator provides the dopamine rush of blowing literally $25 to get ten legendary crests, which then unlock ten legendary gems on your next elder rift run. Except you don't
actually
have to spend any money, nor spend time running the elder rift in question.
No, for $25 Rift Simulator, all you do is click the big, red "WASTE $25" button and then watch your gems get revealed through a slot machine animation, essentially revealing Diablo Immortal's legendary gem endgame for what it really is.
Best of all, $25 Rift Simulator tracks how much money you've spent and how many five-star gems you've managed to unlock through that spending. Want to hear something crazy? I got my first five-star gem in $25 Rift Simulator with less than $300 spent. No joke, check it out!

You think I've been anywhere near that lucky in Diablo Immortal itself? Pft, think again. I've probably blown close to that $225 on the game this month, and I have a single three-star gem to show for it. Never lucky when it counts.
Of course $25 Rift Simulator isn't really a game, and it kind of ignores the reason players like me are tricked into spending money on Diablo Immortal—which is, you know, that it's really fun when it's not using shady math to beg you to line Blizzard's coffers with another Jackson-Lincoln combo. This silly project serves a serious purpose, though, helping to shed a light on how predatory Diablo Immortal's monetization is. And it's using the game's own stated drop rates to do so.
If you're still looking to spend real money, the creator of $25 Rift Simulator has put up a useful "Donate" button at the bottom of the page. And hey, if playing around on this web app and dropping cash to its creator seem like a waste of time and money to you, just remember: It could be worse.
You could have spent almost $16,000 to get your first five-star gem before deleting the gem, the character, and the game.