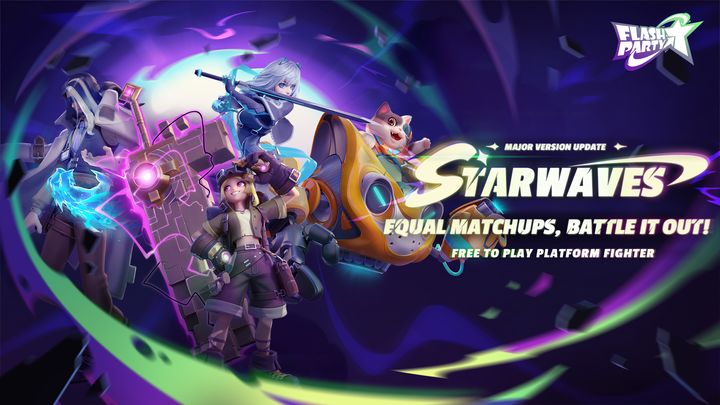 We have a big announcement to make today! On September 27th, there will be a new major version update: Starwaves. In this new version, we'll remove the leveling system, as well as add a new hero, new maps, new battle mechanics, and more.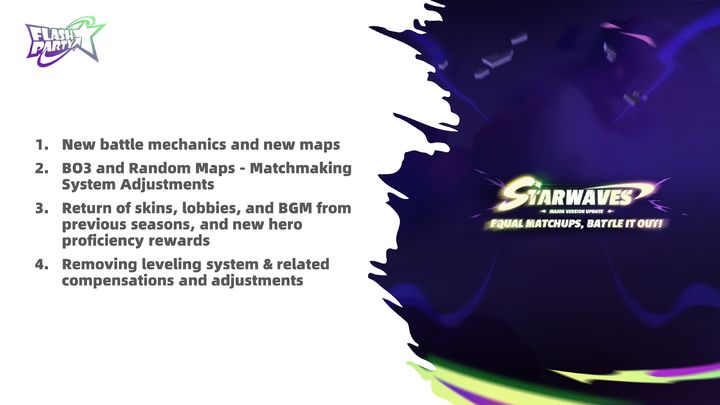 1. New battle mechanics and new maps
2. BO3 and random maps - matchmaking system adjustments
3. Return of skins, lobbies, and BGM from previous seasons, with new hero proficiency rewards
4. Removing leveling system & related compensations and adjustments
[New Battle Mechanics and Maps]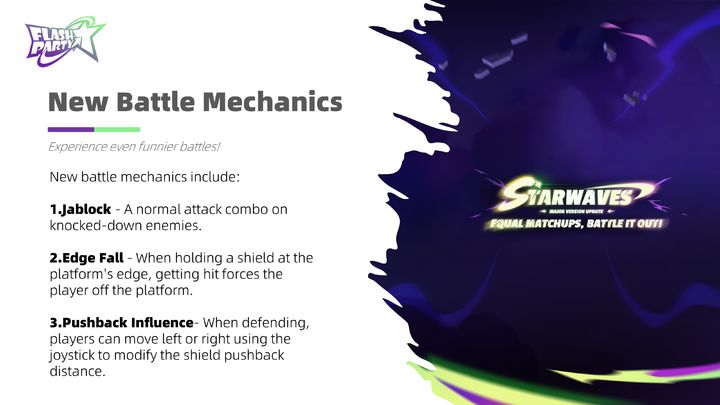 New battle mechanics include:
- Jablock: A normal attack combo on knocked-down enemies.
- Edge Fall: When holding a shield at the platform's edge, getting hit forces the player off the platform.
- Pushback Influence: When defending, players can move left or right using the joystick to modify the shield pushback distance.
Three new maps featuring unique platforms: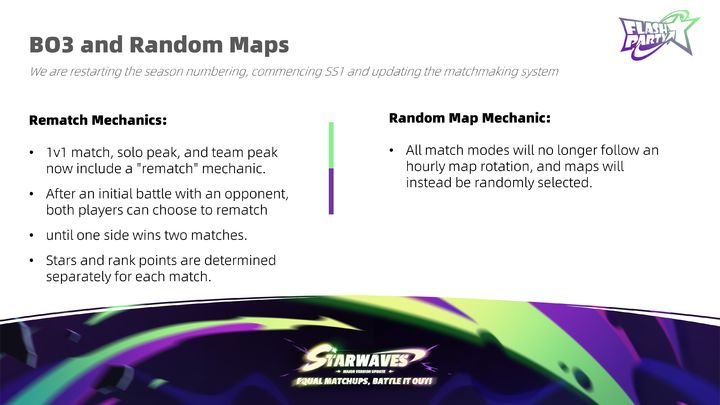 [Previous Seasons' Content]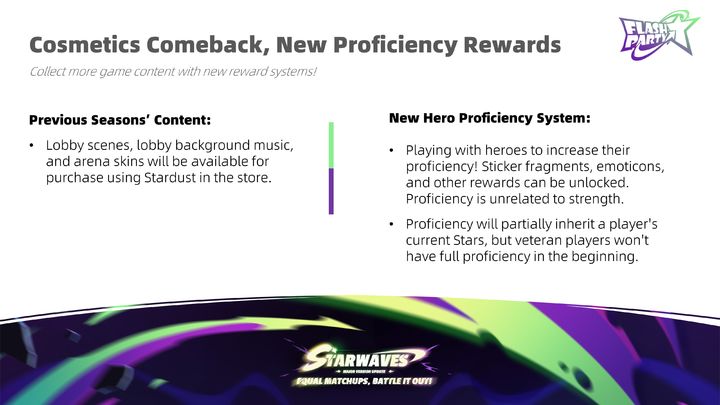 Lobby scenes, lobby background music, and arena skins will be available for purchase using Stardust in the store.
[New Hero Proficiency System]
Playing with heroes to increase their proficiency! Sticker fragments, emoticons, and other rewards can be unlocked. Proficiency is unrelated to strength.
Proficiency will partially inherit a player's current Stars, but veteran players won't have full proficiency in the beginning.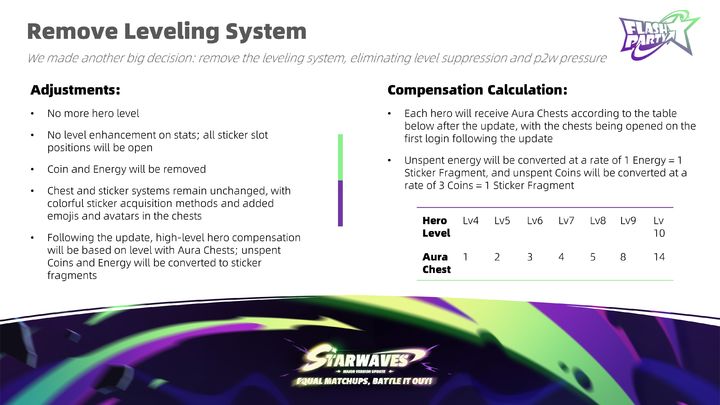 Another big decision:
we decided to remove the leveling system, eliminating level suppression and pay-to-win pressure.
Other related adjustments:
Party Pass, Star Pass, Starlight Wheel, Skin Lottery, Daily Check-in Rewards, Hero Tutorials, and other systems will have their rewards replaced. Coin and energy will be replaced with sticker fragments (already claimed rewards cannot be reclaimed).

The Daily Selection module in the store will be removed.

Monthly Pass privileges: The Coin and Energy Gift Pack discount in the Store will be converted to a Sticker Fragment Gift Pack discount. The daily Sticker Fragment rewards will increase from 30 to 40.
Chests will no longer contain Coins and Energy rewards. Aura Chests will drop 10 times the original amount of Sticker Fragments, while Lumi Chests will drop 4 times the original amount.

Double Novas, standard stickers, and colorful stickers' drop rates and guaranteed times remain unchanged; a new 3% chance to obtain random emojis and avatars is added.
New colorful sticker guarantee mechanic:
In the colorful sticker wish system, players can select 1-3 heroes to increase the drop rate of colorful stickers (10x increase). If any selected heroes don't have a colorful sticker yet, the new colorful sticker will belong to those heroes.

After the update, we will automatically place the three highest level heroes that players have not yet collected colorful stickers for in the wishing pool. This ensures a higher chance of obtaining colorful stickers from the Aura Chest as compensation.
- No level gap and level enhancement on stats; all sticker slot positions will be open
- Coin and Energy will be removed
- Chest and sticker systems remain unchanged, with colorful sticker acquisition methods and added emojis and avatars in the chests
- Following the update, high-level hero compensation will be based on level with Aura Chests; unspent Coins and Energy will be converted to sticker fragments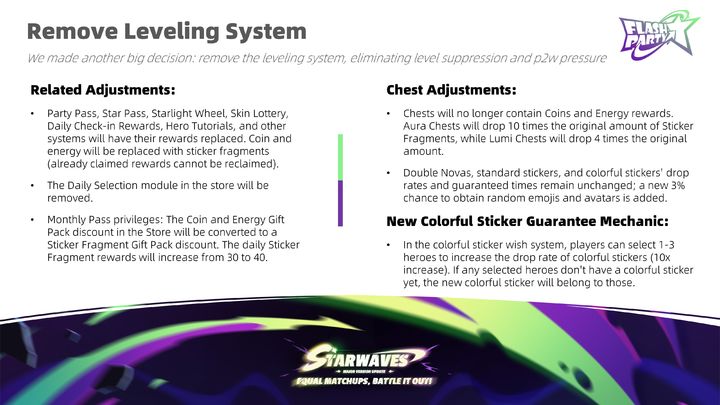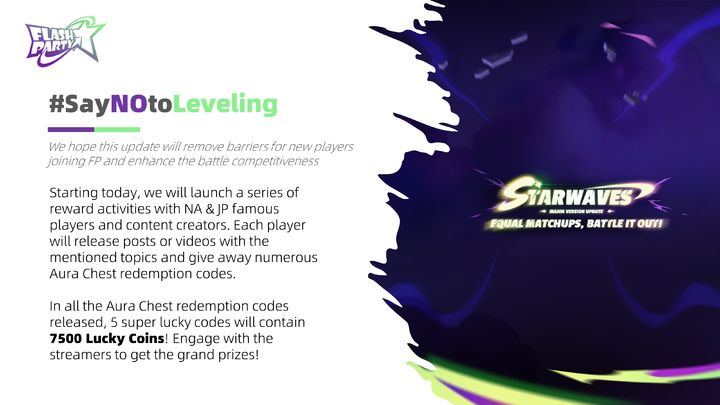 We hope this update will remove barriers for new players joining FP and enhance the PvP competitiveness.
Starting today, we will launch a series of reward activities with our tournament players and live streamers.
Each player will release posts or videos with the mentioned topics and give away numerous Aura Chest redemption codes.
In all the Aura Chest redemption codes released,
5 super lucky codes will contain 7500 Lucky Coins!
Engage with the streamers to get the grand prizes!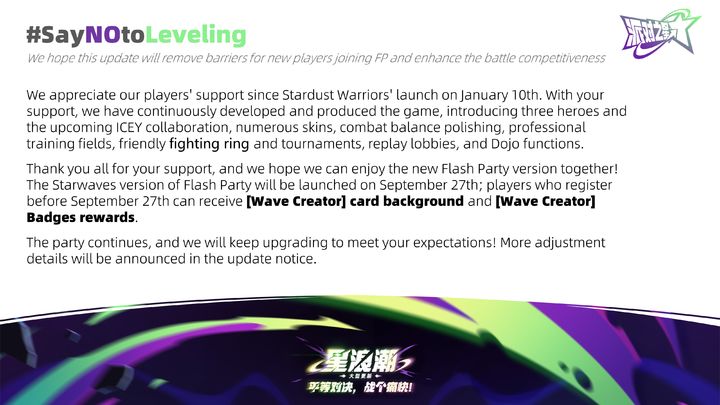 Thank you all for your support, and we hope we can enjoy the new Flash Party version together! The Starwaves version of Flash Party will be launched on September 27th; players who register before September 27th can receive
[Wave Creator] card background
and
[Wave Creator] badge
rewards.
[Sepcial Easter Egg]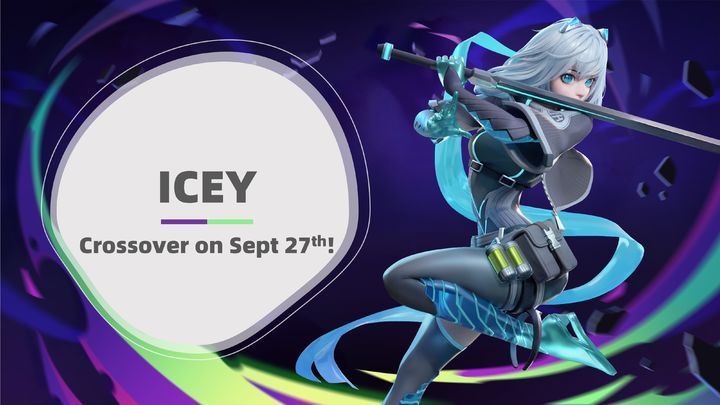 The collaboration hero ICEY will be launched simultaneously with the new version on September 27th! See you soon!