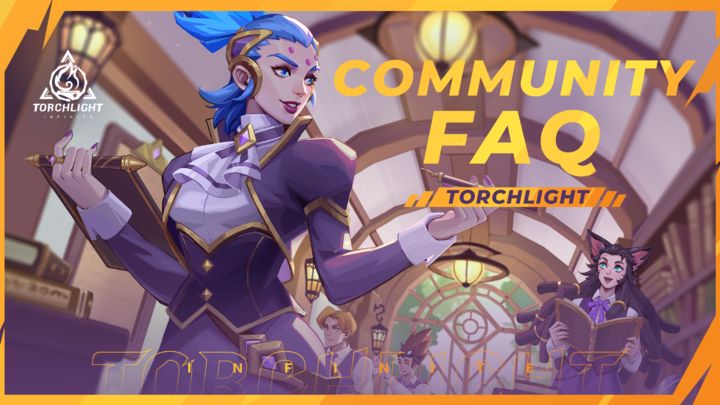 Q:
When a slate has a divinity effect limit for an affix that matches a talent point, will it stack once if you also chose that talent point? Ie : +1 all skill levels
A:If the divinity slate does not specifically mention the number of times an effect can be activated, then it is always active.
Q:
We were told that spacetime elapse Youga will get more affix related to DoT damage/affliction. The direction is fine, but execution is NOT. Elapse Youga got only 10% additional DoT and an additional affliction effect that takes quite some time to reach its maximum potential. Besides, spacetime cutting trait is usually chosen over trait that grant additional affliction effect(spacetime speed-up) making adjustment even more pointless. Could you explain the design philosophy behind this?
A:The primary change this time involves modifying the inc-type Affix to a more-type Affix, ensuring that when players receive inc-type benefits from equipment, talent, and other sources, the power of special features remains undiluted. The Spacetime Speed-up feature point's strength remains unaltered for now, with the focus on providing means to acquire Spacetime Energy. We have also noticed the current strength issue with Spacetime Elapse Youga and will consider strengthening it in future versions.
Q:
The new Gemma trait, flame of pleasure shows Gemma with intact limbs. Season preview only mentioned that Gemma was consumed by her fire power and did not mention about her limbs. Is this change related to the story? or it's just that designers decided that Gemma with intact limbs looks better and kept it that way?
A:It can be understood as Gemma was reborn after being devoured by Fire Strength.From a design perspective, the character temporarily does not support alien forms and must retain the basic human skeleton. Based on this framework, we create hero and trait designs.
Q:
T1-T4 beacons are abundant and don't feel like a really limiting resource, especially with the Trader selling them. After removing compasses the next possible step is getting rid of these beacons and increasing Netherrealm Resonance drop. How does paying with Netherrealm Resonance to open a map feel for you?
A:Currently, there are no plans for adjustments, and Netherrealm Resonance can be obtained through specific cards.
Q:
It's said ""Calculation subtracts Armor Damage Mitigation Penetration from the armor's damage reduction percentage"", and the result may be even below zero. But it's not clear how it works with non-phys dmg.For example: enemy armor reduces 25% physical and 15% rest dmg, my penetration is 35%, thus my phys skill deals +10% instead of -25%. Right?What will happen with elemental dmg? Will it change from -15% to +20% in such a case?
A:Those two conclusions are correct.
Q:
I noticed that the wilting beam got its base damage buffed but its DoT duration was reduced to 0 second. Does this mean it can no longer benefit from Reap Purification since Reap Purification applies to remaining DoT? Also, does this mean You cannot increase the duration of DoT as well? If so, how does reap work on this skill?
A:The issue is a display bug, which we will address promptly. In reality, the persistent duration of Dot remains identical to the previous version, at 1.6 seconds, and has not been changed.
Q:
Considering the vast difference between exchange rates in different regions, are you planning to enable purchase of content using Steam or Google, etc regional pricing capabilities, maybe limiting with only season pass, to avoid RMT if needed?
A: We have no plans in this regard at the moment.
Q:
Hello, does Nourishment effect scale with Hero's Empower Skill effect stat or with Spirit Magi Empower Skill effect?
A:It is related to the Hero and not to the Spirit Magus itself, as the special feature provides a conversion mechanism.
Q:
Hello. First of all, I want to applaud you for making a fun league mechanic, and dramatically improving crafting for early to mid game crafts. Thank you. My question is in regards to targeted processing. I am currently trying to place even a t2 mod on my wand, and the success rate is 5pct... This is far too low for ANY mod, much less a t2  mod. The cost to roll this is 1fe, with an additional 3 fe to reforge. This is crazy. Would you consider drastically increasing the success rates, or decreasing the cost?
A:Your equipment item level may be too low, resulting in the highest possible T2 Affix. Check the potential Affix T levels before crafting.
Q:
I found out "Precise: Cast while channeling" skill is no longer on the drop pool of The Watchers, unlike other Precise trigger skills. Is this not a new change? Because I didn't find this information on the Patch note。
A:Precision Cast while Channeling should never have appeared in Plane Watcher's drop pool. We are unsure where you saw it previously—it only drops in the POB.
Q:
The matching between background colors of drop and autoloot capabilities became worse.For example, Casting Wedges have the yellow background, same as Flame Sand, so I expect them to be picked and run ahead. But I have to return and click. Same for Pages of Aeterna. I have to pick them 1 by 1 even with adv. autoloot.Intended?
A:Auto loot is not supported for some high-value items.We are actively developing the Customize filter, hoping to enhance the Pick-Up quality for players. Regarding Auto loot and manual Pick-Up, this is a classic, long standing issue. Over-automated Pick-Up can weaken the overall drop impression for players, so we will carefully balance the two aspects.
Q:
Does generic max ele res affect gemma3's level 80 trait "banquet of bliss"? or is it specifically only max fire res?
A:Both max element resistance and max fire resistance can affect gemma3's level 80 trait.
Q:
Any chance we can get target crafted mods to be upgradable by plasticity
Q:
Do auras affect minions such as synthetic troops and spirit magi?
A:Yes, unless you use the selfishness or Lone Walker's Boots or something else which could change the aura effect target.
Q:
So the description of enhanced skill for magus says we can increase chance up to 100 but this chance is not displayed anywhere in the game and we can't find it in patchnotes, tlidb etc.So what's the real BASE chance of magus to cast enhanced skill?
A:The base probability is 0. We may add it to the panel display in the future, but since the frequency of this stat change is high, accurately predicting it will take time.
Q:
Hi! Is shock rework still in plans or do you feel it good enough with recent changes?Do you like having 3 DoT ailments?
A:We continue to observe the operation of Shock in Persistent Observe.