SHOULD I PLAY THE WALKING DEAD: BETRAYAL?
Play it.
The Walking Dead: Betrayal
is an eight-person social deception game from the creators of
Project Winter
based on the popular comic book and TV series
The Walking Dead
. While
Betrayal
suffers from some tutorial problems and a small player base as of its early access launch last week, I was blown away by its refreshing take on multiplayer social deduction gameplay.
TIME PLAYED
I played
The Walking Dead: Betrayal
for four hours. I've completed over a dozen matches so far, playing the survivor role in most of them. Each match lasted in the eight- to fifteen-minute range.
WHAT'S AWESOME ABOUT THE WALKING DEAD: BETRAYAL
• Surviving hordes of zombies. There's nothing more exhilarating in a social deception game than making it out alive and outwitting other players.
The Walking Dead: Betrayal
takes this experience to the extreme by placing players against not just each other, but zombies and the environment too. I had to solve tasks using materials I found from wreckage, houses, and boxes, and needed to stay alive by constantly monitoring my hunger. While doing all of this, I also needed to watch out for zombies and traitors on my team who wanted to sabotage my escape or kill me. And as stressful as that all may seem, it's pulled off exceptionally to provide a balanced and thrilling survivor experience.
• Sabotaging tasks and killing other players. While I didn't get to play as the traitor as much as I wanted, I still enjoyed jumping into the role of a cold-blooded killer from time to time. Unlike
Among Us
where the impostors are shape-shifting aliens, the traitors in
Betrayal
are just selfish survivors who'll do anything to stay alive even if that means killing other people. Playing as the traitor was challenging, but that just made it even more satisfying when I managed to kill other players or even pulled off winning a game.
• Becoming a zombie. In most social deduction games, once you die, you're dead. In The
Walking Dead: Betrayal
, though, I was able to turn into a zombie after getting killed, herding other undead towards surviving humans in an attempt to kill them. Giving players a means to affect the match after technically getting eliminated is a brilliant addition to this style of game.
• Exploring broken houses and looting chests. The Walking Dead:
Betrayal
features a map that's at least twice the size of most of the maps in
Among Us
and
Deceit
. This impressively huge space is filled with all sorts of places to explore and loot for players to use in matches. Even hours into playing, I was still regularly finding new hidden areas or locations I had not yet checked out.
• A lo-fi post-apocalypse.
Betrayal
takes on a low-poly art style with minimal detail, shading, and outlining, resulting in a simple yet beautiful post-apocalyptic look. This style keeps the screen clutter-free and puts the focus onto the gameplay.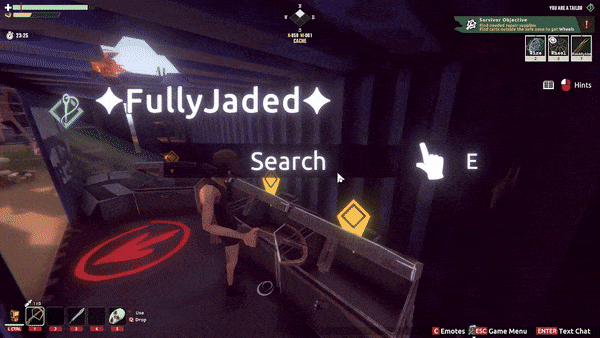 WHAT NEEDS IMPROVEMENT IN THE WALKING DEAD: BETRAYAL
• Finding matches. Like with most multiplayer games,
The Walking Dead: Betrayal
depends on other players to function. Unfortunately, as of launch week at least, finding matches took forever, and getting lobbies with people that knew how to communicate was even more rare.
• Tutorial.
The Walking Dead: Betrayal
plopped me into the world, gave me a bunch of tasks, and expected me to figure stuff out over time. Since the gameplay feels very different from other social deception games like
Among Us
or
Deceit
, it wasn't particularly easy for even a veteran of the genre like me to get a handle on everything going on here. A more in-depth tutorial would go a long way towards helping newcomers fully grasp the mechanics; hopefully that will be added before
Betrayal
's full release.
💬 Are you going to play The Walking Dead: Betrayal or will you pass on it for now? Tell me down in the comments!